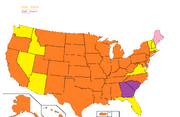 The 2012 Republican Primary Results were somewhat unexpected, out of many candidates, Santorum (who eventually won the nomination) was polling around last and Perry or Romney was widely expected to win. Despite this, Santorum pulled through and managed to win Iowa, and then some February states and then carried enough momentum to win several Super Tuesday victories, and soon after Michigan and Ohio, Romney dropped out, as well as Gingrich who's support really lifted Santorum. Congressman Ron Paul was Santorum's only serious challenger who "vowed to take this fight to the convention", who was viewed as a lunatic and was set home embarrassed. 


VP Selection Process:
Santorum's reported shortlist for vice presidential running mates were:
Sarah Palin, Former Alaska Governor
Newt Gingrich, Former U.S House Speaker
John Thune, Senator from South Dakota
Marco Rubio, Senator from Florida (chosen)
Rick Perry, Governor of Texas
Robert Bentley, Governor of Alabama
Rand Paul, Senator from Kentucky
Paul Ryan, U.S Representative from Wisconsin
Bobby Jindal, Governor of Louisiana
Michele Bachmann, U.S Representative from Minnesota
Ad blocker interference detected!
Wikia is a free-to-use site that makes money from advertising. We have a modified experience for viewers using ad blockers

Wikia is not accessible if you've made further modifications. Remove the custom ad blocker rule(s) and the page will load as expected.